H.O.P.E.
heritage - originality - progress - endowment
Support academic excellence & research advancement for a
Brighter Tomorrow
Dear Alumni and Friends: In the days of COVID-19, our world has changed drastically but your role as our ambassadors and advocates throughout the U.S. is more deeply valued than ever. My warmest regards and gratitude to each of you. Your loyalty and support to Fu Jen is deeply appreciated and truly commendable.
H.O.P.E.
which stands for heritage, originality, progress and endowment. With our Catholic
Heritage
, there is a code of uniqueness; we will advance our academic excellence with
Originality
and innovation; we will make
Progress
as we adapt to the changing times; and will build an
Endowment
fund to sustain the founding principles of Fu Jen for perpetuity. Now more than ever it gives me immense pride and honor to extend my most heartfelt thanks for your support and dedication to Fu Jen. Thank you so very much and for Fu Jen we stand together!
Stay Safe and Stay Healthy,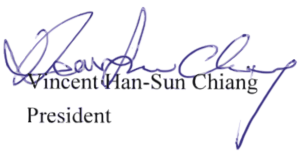 As I continue the third term as president of Fu Jen Catholic University, my motto moving forward is
Academia. Research. Hope.
Fu Jen University is one of the best private Catholic universities in Asia.  Founded in 1925 at the request the Benedictines of St. Vincent Archabbey of Latrobe Pennsylvania, Fu Jen University has grown from Pop Pius XI's vision for a great Catholic University in Asia, into a research University steep in religious and intellectual traditions. In 2017, the University founded the Fu Jen University Hospital.  As the primary teaching hospital for the Fu Jen School of Medicine, the hospital serves as a conduit for collaboration between different academic disciplines resulting in cutting edge research in laser technology and biotechnology, integration of Western and Chinese medicine, and robotic surgery. 
Veritas, Bonitas, Pulchritudo, Sanctitas
Truth, Goodness, Beauty, Sanctity.